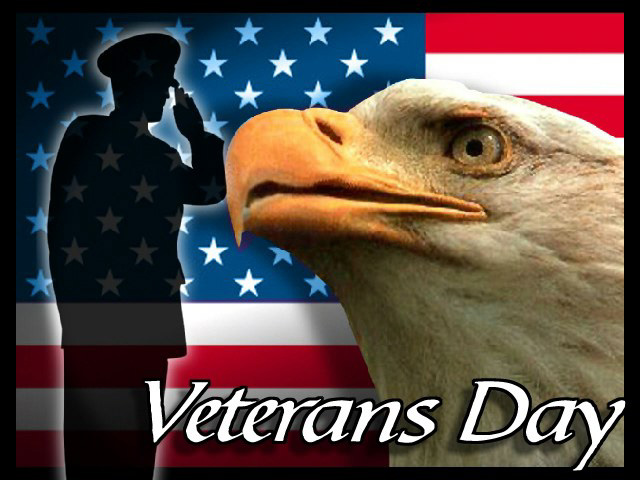 Yesterday in our Seasoned Persons bible study, the discussion centered on September 11th 2001, and it aftermath. We reminisced about how after that tragic day you saw God Bless America Signs everywhere. The question was then raised during war what side is God on? Especially when on both sides people are praying to the same God for victory and security.
Well today it's November 11th, Veteran's day. A day to reflect on those who have lived, fought and died in wars around the world involving America. Today is our chance to show love and support for our fine brothers and sisters who have given of themselves for others. As I reflect today I don't believe God chooses sides in war, I believe God loves all of us (ALL), and I think it is not about God choosing a side, but us choosing God's side. Despite how you feel about war, or your stance on certain wars the fact is that when we choose God we can't loose. Paul's letter to the church in Rome says it like this:

Romans 8:28-37

28 And we know that in all things God works for the good of those who love him, who have been called according to his purpose. 29 For those God foreknew he also predestined to be conformed to the image of his Son, that he might be the firstborn among many brothers and sisters. 30 And those he predestined, he also called; those he called, he also justified; those he justified, he also glorified.
31
What, then, shall we say in response to these things?

If God is for us, who can be against us?
32
He who did not spare his own Son, but gave him up for us all—how will he not also, along with him, graciously give us all things?
33
Who will bring any charge against those whom God has chosen? It is God who justifies.
34
Who then is the one who condemns? No one. Christ Jesus who died—more than that, who was raised to life—is at the right hand of God and is also interceding for us.
35
Who shall separate us from the love of Christ? Shall trouble or hardship or persecution or famine or nakedness or danger or sword?
36
As it is written:"For your sake we face death all day long; we are considered as sheep to be slaughtered."
37 No, in all these things we are more than conquerors through him who loved us. 38 For I am convinced that neither death nor life, neither angels nor demons, neither the present nor the future, nor any powers, 39 neither height nor depth, nor anything else in all creation, will be able to separate us from the love of God that is in Christ Jesus our Lord.

If we choose to go with God, we won't be led astray, and nothing can separate us from that eternal love! Today, choose God.

God, thank you for our Veterans everywhere, open our minds and hearts today to choose you. In Jesus name Amen.